We offer some of the best viewing solutions in X-Ray film reading:
It is efficient use of space with its slim design gives an elligent and sophisticated looks to the consulting area and efficient use of space…
Basic information on products offered by Beejay on the brand name of Medixview:
N-series viewers
These viewers have an inbuilt power supply and analog dimmer control. It has very high brightness >10,000 lux. This LED LCD Model uses Back-Lit Technology and the Thickness is 35mm (< 1.5 Inch).
J-series viewers
These digitally controlled viewers are LED Back-Lit Viewers and have an inbuilt power supply and E-dimmer control. Each section can be controlled separately and also has film sensor functions. It has very high brightness >11,000 lux. The Thickness is 45mm (1.3/4th Inch).
Presently available in four sizes that is
1. Single film 14 " X 17 "
2. Double film 28 " X 17 "
3. Three film 42 " X 17 "
4. Four film 56 " X 17 ".
(The stand is an optional accessory)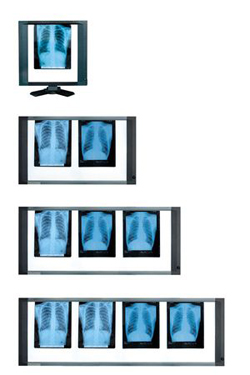 Thickness.
With just 25 mm in thickness the medixview not only offers style but also durability and affordability. Call us today it's truly a world class product
Beejay offers ease of operation:
Hospitals and diagnistic centers have an ease of handling and viewing X-ray films as reporting becomes easy and accurate as more detailed viewing is possible
Doctors throughout the world are changing for better switching to Medixview offered solutions…
– Medixview offers ease.
– Reduces chance of error.
– Offers durability with style.
– Latest technology.
– Cost effective in long run.
– Various options.
Let Beejay change the way you look at an X-ray film. The world is switching for the better…. call us today
Basic model X-ray viewing illuminators with external power source.
The view box is with most modern invisible X-ray film holding device. This enables easy loading and removing of X-ray films.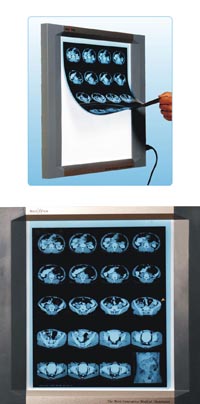 www.medixview.com.
The dental view box is small and portable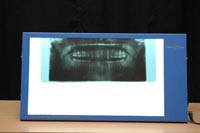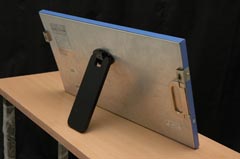 The dental viewers "DentaXview" is also an FDA aproved product and suitable for reading dental OPG and cephalogram films. Presently available in 14″X 8″ and is just 13 mm (half inch) slim.